ATown previews the actual match-up along with SpartanMan82 and MSUspartan76. Each has a distinctly different take (and tone) on the game and possible aftermath. It's a good read, b
ut first let's all check in our our rival's coach.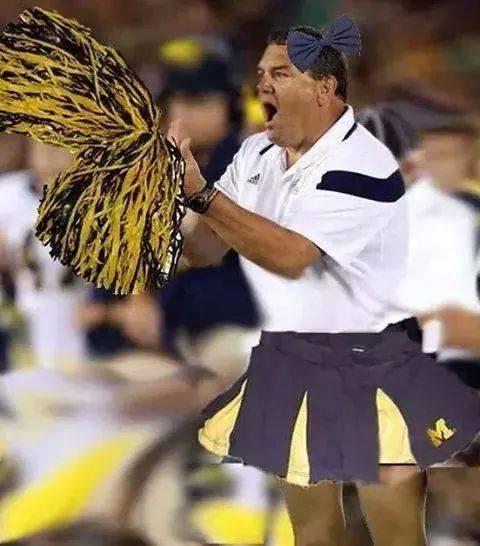 The Vegas betting lines say this will be a big MSU win, perhaps a blowout. Do you believe that and expect that? Why or why not?
SpartanMan 82
I would take Michigan and the points. There are few blowouts in this series. Their
quiet demeanor (so far)
this week suggests they realize it's their Michigan Manhood on the line this time. Most athletes are at their best when their backs are against a wall.
MSUSpartan76
There are many reasons to predict a sound thrashing of the UM team on Saturday and only 1 that counters that prognostication. The 1 is that it is a huge rivalry. MSU has many, many times taken down a high ranked UM team. When this backyard brawl starts, everything is thrown out. There are 2 differences this year that make it easy to agree with Vegas betters. First, MSU plays as a team. Second, the MSU coaching staff makes excellent adjustments, not just at half time, but in real time. We have not seen that from the Ann Arbor team. I can see the UM defense possibly slowing down the MSU rushing attack, but not enough and I can not see the UM offense getting any traction. MSU wins... big.
What would ha
ve to happen
for Michigan to win, or at least stay close?
Some would say that MSU has to keep their heads attached and not think of themselves as already having won. For UM to stay in the game, they have to suddenly become a team and MSU has to make too many mistakes. In this game, momentum is bigger than talent and if the Spartans let UM get traction, it could be a long day. Coach Dantonio won't let swelled heads get in the way of the game, but we have seen the Spartans make mistakes, some of them costly, this season. MSU wins... big.
SpartanMan 82
It may be hard for MSU to run against UM, at least for awhile, allowing other factors to set the tone of the game, such as turnovers and special teams. If those variables all go blue, the game could be tight well into the fourth quarter. Michigan would need to win the turnover margin, stop or at least slow the Spartan rushing attack, and hit on some big plays, including at least one long run and one long pass.
Play-calling by Michigan State will also be important. Top priority is not to spend too many plays slamming into the UM D-Line if nothing much is happening there. MSU needs to stay diverse and creative and throw in a trick play or two (but probably not a fake punt from our own 30). If the Spartans play it too close to the sweater-vest, UM may get good field position several times early in the game, from which big plays can be especially costly to surrender.
But Michigan is basically operating without a backup quarterback, so as everybody has noted, if Gardner has to take a seat, the Wolverines may be hard-pressed to make any progress on offense.
What would be the longer-term impact of another true "woodshed beat down" by the Spartans?
Nothing. One game does not define anything and a beat-down of a dysfunctional team will not hurt UM or help MSU in the long term. The program Coach Dantonio has built, from the ground up, is too strong and too resilient for 1 game to make a difference. The most it will do is turn a few recruits eyes towards E.L. and away from A.A. MSU wins... big.




Losing incoming talent and rolling the dice on someone else as "the savior" is going to have its last impact.



SpartanMan 82
I question the word "another" in the question.
Last year
was a close game on the scoreboard, as Michigan took the first lead and the teams were tied with a minute before half-time. It was a two-score game until a late TD sealed it for MSU. I've never seen any beat-downs by the Spartans over the Wolverines (though I've read about
a few
from many
decades ago
).
That's why it would be great to have one right now. Many people are expecting it (not me) and it would be tremendous for the Spartan program to ring one up for the record books. Any solid win will extend the UM non-dominant perception, and Dantonio might do better in head-to-head recruiting battles. Since starting at Michigan State, Dantonio has won less than one-third of the head-to-head recruiting offers against Michigan. It would be nice for our Coach to get a better percentage of those players, and that just might start happening if there's a trip to the woodshed.
What have you noticed about Ann Arbor fans on the web and other media this week?
I said it on MLive: This week has been boring. Half the fan base for U of M has mailed in the season. Half of those that remain talk about how bad the team is. And then you get a conglomerate of people that don't know what they are talking about, are dreaming with their comments or trying to hold onto some shred of the past.

Overall, I have not heard one legitimate argument for U of M this year and that sucks. At least Huskers showed up to tell us how it was going to go. They were wrong. But at least they made the week interesting.
SpartanMan 82
They're all over the place. Some of them want to fire Brandon, some of them want to fire Hoke, some of them want to fire Brandon and Hoke, and some want to keep them in their jobs for another year.
Wait, were you talking about the actual football stuff?
Some guys are really flaming on "their" school, and I mean that literally. The dude who posts as "SomeGuy73" has totally had it with Hoke and makes no bones about it. SomeGuy draws a lot of criticism for his comments on M-Live MSU articles, but when you read his comments on the UM side, you can see a Blue Man in flames. They all consider Hoke to be a Dead Man Walking, and then many of them also seem like zombies stumbling in the dark right now. It's great reading, very fascinating!
MSUSpartan76
The media is hypercritical of MSU looking to point out and exagerate every single thing they can find to cast a negative view of MSU. This was going on ever since the possibility of MSU in the Championship series came up and this week has not changed that. We have noticed more and more critical pieces on the AA squad, especially with the grass roots uprising down there. The fans, those chUMps (aka Skunkbears) are still trolling out the "Little Brother" insult as if it has some meaning or bearing on the game. The team from that school down the road has been quiet. They seem to know about the lion in the cage and are not doing anything to stir it up. MSU wins... big.




----------
Tweet
****** Click on NO COMMENTS (or # comments) below to enter and view reader comments. ----- Remember to check Spartan Headline links, updated real time, in the left column of SpartanResource.com (Web version only). *****Note: If you are receiving this post via automated email, you need to go to the site to view headline links and embedded videos in this post: http://spartanresource.com/ (Web version only). SIGN UP TO RECEIVE POSTS VIA EMAIL, TWITTER OR FACEBOOK IN THE RIGHT COLUMN.*****