From "These Ten Things" on CBSsports.com - For the complete article, click
HERE
.
Tom Fornelli selects ten things that really caught his attention each week in college football.
This week, MSU caries the #1 spot and #4 and #5 are related to chUMps.
5. Wikipedia has already fired Brady Hoke.
Go ahead and click that photo to enlarge it if you need to.
Once you've lost Wikipedia, you've lost somebody on the internet who took the time to edit a page. I'm not sure you can come back from that.
1. Michigan State's defense is football porn to me.
I love when Michigan State plays a bad team because it means that my favorite defense in college football is going to do even more damage than usual. It's not just that the Spartans defense is good and shuts opponents down, it's mean, too.
Look at the box score from Michigan State's 73-14 win over Eastern Michigan.
Now, the box score does a decent job of showing the dominance of the Sparty defense, but it doesn't show the whole picture. First of all, Eastern Michigan only managed 1 yard of offense in the first half. One. That's three feet of offense. Sparty had a 49-0 lead at that point. The Eagles would pick up some yards and points in the second half when Michigan State began allowing fans to put on the pads and play.
But the box score and 1 yard of offense in the first half simply not tell the whole story of the Michigan State defense as well as this photo does: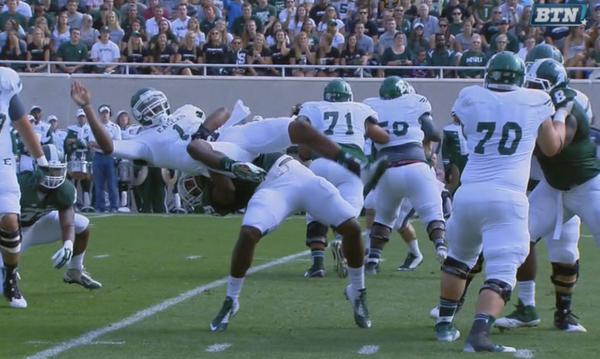 I love this defense so darn much.
Tweet
****** Click on NO COMMENTS (or # comments) below to enter and view reader comments. ----- Remember to check Spartan Headline links, updated real time, in the left column of SpartanResource.com (Web version only). *****Note: If you are receiving this post via automated email, you need to go to the site to view headline links and embedded videos in this post: http://spartanresource.com/ (Web version only). SIGN UP TO RECEIVE POSTS VIA EMAIL, TWITTER OR FACEBOOK IN THE RIGHT COLUMN.*****